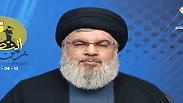 Hezbollah Director-General Nasrallah
At least eight Hezbollah fighters were killed in a drone strike in the eastern Syrian desert, where pro-government forces are engaged in a grinding battle against the Islamic State group, a monitoring group said Monday.

The Britain-based Syrian Observatory for Human Rights said a drone struck a position of the Lebanese militant group, which is fighting alongside President Bashar Assad's forces.

A Hezbollah official confirmed the strike but not the toll. The official was not authorized to speak to the media so spoke on condition of anonymity.

It was not immediately clear who was operating the drone. Unmanned aerial vehicles are now widely used in Iraq and Syria, by armies and militant groups alike.

Social networks affiliated with Hezbollah and the Syrian regime, as well as Lebanese newspaper "the Daily Star" estimated the drone to be American. However, sources familiar with the incident did not rule out the possibility that it was Russian "friendly fire".

No Israeli involvement in the attack was speculated.

Israel has been targeting Hezbollah's convoys in Syria with growing regularity, saying it cannot allow advanced weapons provided by Iran to be sent to Lebanon. Iran has sponsored and supplied Hezbollah since establishing the group in the 1980s to fight Israel's occupation of south Lebanon.

But Israel's strikes are generally confined to western and southern Syria, near the Lebanon and Israel borders. It has also been accused of striking Syrian government positions.

The US has also attacked Syrian pro-government forces by air, but only once in any connection to the war on the Islamic State group, in September 2016, when an air raid killed at least 60 Syrian soldiers. The White House called the raid a mistake, and said it was committed to the war against the jihadist group.

Roi Kais contributed to this report.