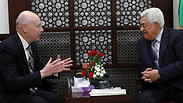 Greenblatt and Abbas
Photo: Reuters
US President Donald Trump's special envoy to the Middle East Jason Greenblatt publicly called on Palestinians Monday to recognize the State of Israel and commit to nonviolence in what was a rare layout of the White House's preconditions to kick-start peace negotiations between Israel and the Palestinians.

Uploaded on his Twitter page, Greenblatt, who has paid several visits to the region in a bid to inject energy into the moribund peace talks, said "The United States stresses that any Palestinian government must unambiguously and explicitly commit to nonviolence, recognition of the State of Israel, acceptance of previous agreements and obligations between the parties, and peaceful negotiations."

In addition, Greenblatt praised Palestinian Prime Minister Rami Hamdallah and his Fatah delegation for visiting the Hamas-ruled Gaza Strip to undertake the most ambitious attempt to reconcile the rival political factions since the Islamic militant group seized control of the enclave over a decade ago.

"As the Palestinian Authority Cabinet visits Gaza today in preparation for the October 3 cabinet meeting, the United States welcomes efforts to create the conditions for the Palestinian Authority to fully assume its responsibilities in Gaza, as noted in the September 28 Quartet statement," he declared in the brief.

"We will be watching these developments closely, while pressing forward with the Palestinian Authority, Israel, and international donors to try to improve the humanitarian situation in Gaza," he continued.

Rami Hamdallah began his visit with a message of reconciliation, shortly after arriving in a 30-vehicle motorcade through the Erez border crossing separating Israel and Gaza. He was accompanied by a large delegation of Fatah officials from the West Bank-based Palestinian Authority, dozens of aides and armed bodyguards.

Upon entering the Gaza Strip, Hamdallah said that he hoped the cooperation would succeed, and that the main beneficiary of the division between the Palestinian Authority and Hamas is Israel.

"We return to the Gaza Strip once again to end the division, and I commend the factions and civil society members who have joined together to bring it to an end," Hamdallah stated.

"It is time to take responsibility," Hamdallah added. "The only factor that benefits from our division is the Israeli occupation. We praise Hamas for the dispersion of the administrative committee and look forward to working closely with all factions and components of civil society for the benefit of our people in the Gaza Strip.

"The success of the government depends on its ability to carry out its actions in practice. We will continue to resist the Israeli occupation until the blockade over the Gaza Strip is lifted and the crossings are opened."