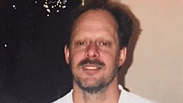 Motive still unclear behind deadly Las Vegas attack
Neither law enforcement authorities nor family of perpetrator Stephen Paddock have yet determined what caused the wealthy 64-year-old former accountant to carry out his mass shooting, killing at least 59, wounding hundreds; Sheriff: 'I can't get into mind of a psychopath.'
Sheriff Joseph Lombardo of Clark County, to which Las Vegas belongs, announced Monday the death toll in the Las Vegas shooting rose to 59, with more than 527 people wounded in the deadliest mass shooting in modern US history.

American law enforcement authorities are still trying to ascertain what motivated 64 year old Stephen Paddock to shoot concert goes attending a country music festival from the 32nd floor of the Mandalay Bay Hotel, and take his own life immediately thereafter.

Lombardo said the gunman smashed the windows from which he fired in the two-room hotel suite where he had been staying since Thursday. More than 10 suitcases were in the suite.

Asked about a possible motive, Sherriff Lombardo said, "I can't get into the mind of a psychopath at this point."

The FBI said it found nothing so far to suggest the attack was connected to international terrorism, despite a claim of responsibility from the Islamic State group, which said Paddock was a "soldier" who had recently converted to Islam.

In fact, nothing could prepare even Paddock's family to the heinous acts he committed. His brother, Eric, said Stephen was a multimillionaire and that they had business dealings and owned property together.

Speaking to reporters from his doorstep in Orlando, Florida, he described his brother as "a wealthy guy" who liked to play video poker and take cruises.

Asked to speculate on the motive as well, Paddock's bewildered brother told reporters Monday, "I can't even make something up. There's just nothing."

Local authorities added Paddock had no criminal record and no known outstanding debts.

When raiding Paddock's home in Mesquite, about 90 miles (145 km) northeast of Las Vegas, another 19 firearms, some explosives and thousands of rounds of ammunition were discovered, along with "some electronic devices that we are evaluating at this time," Lombardo told reporters. Also, several pounds of ammonium nitrate, a fertilizer that can be turned into explosives such as those used in the 1995 Oklahoma bombing, were in his car, the sheriff said.

Police obtained a warrant to search a second house connected to Paddock in Reno, Nevada, more than 400 miles (644 km) northwest of Las Vegas, Assistant Sheriff Todd Fasulo later told reporters.

When police reached the shooter's hotel room, room 135 in the gold-colored glass skyscraper on the Las Vegas Strip, they found Paddock had 23 guns—some with scopes. They also found two gun stocks that allow the shooter to replicate fully automatic fire, and are investigating whether weapons used in the massacre had those modifications.

Chris Sullivan, the owner of the Guns & Guitars gun shop in Mesquite, issued a statement confirming that Paddock was a customer who cleared "all necessary background checks and procedures," and said his business was cooperating with investigators.

"He never gave any indication or reason to believe he was unstable or unfit at any time," Sullivan said. He did not say how many or the kinds of weapons Paddock purchased there.

Lombardo said investigators knew that a gun dealer had come forward to say that he had sold weapons to the suspect, but it was not clear if he was referring to Sullivan. He said police were aware of "some other individuals that were engaged in those transactions," including at least one in Arizona.

Paddock's brother stressed even if his brother had hit hard financial times, his close family could have well helped him through them. "No affiliation, no religion, no politics. He never cared about any of that stuff," Eric Paddock said as he alternately wept and shouted. "He was a guy who had money. He went on cruises and gambled."

Public records also offered no hint of financial distress or criminal history, though multiple people who knew him said he was a big gambler.

Later, Eric Paddock also told The Associated Press that he had not talked to his brother in six months and last heard from him when Stephen checked in briefly by text message after Hurricane Irma.

Their mother spoke with him about two weeks ago, and when he found out recently that she needed a walker, he sent her one, Eric Paddock said.

"Our mother is simply in shock," Eric said.

While Stephen Paddock appeared to have no criminal history, his father was a notorious bank robber, Eric Paddock confirmed to The Orlando Sentinel. Benjamin Hoskins Paddock tried to run down an FBI agent with his car in Las Vegas in 1960 and wound up on the agency's most wanted list after escaping from a federal prison in Texas in 1968, when Stephen Paddock was a teen.

An FBI poster issued after the escape said Benjamin Hoskins Paddock had been "diagnosed as psychopathic" and should be considered "armed and very dangerous." He'd been serving a 20-year sentence for a string of bank robberies in Phoenix.

Ynet contributed to this report.