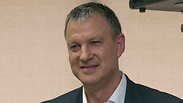 Erel Margalit
Photo: Ohad Zwigenberg
Zionist Union MK Erel Margalit unexpectedly announced on Tuesday evening his intention to resign from the Knesset and retire from political life.

Margalit will return to his previous post as the director of the Bakehila NGO and the CEO of the international investments firm JVP. From there, he plans to lead a national project to develop seven new growth areas in the Negev and Galilee regions.

In a statement, Margalit said, "in order to implement truly big things and change reality, one needs room to operate... At this time, I have the opportunity to promote these initiatives outside the political system. Therefore, I have decided to resign from the Knesset and continue my work as a social and economic entrepreneur."

This is the second loss the Zionist Union has suffered recently, after Manuel Trajtenberg announced about a week ago he was resigning from the Knesset to return to academia.

Margalit stressed that "leaving the Knesset doesn't mean I'm leaving the Labor movement. The Labor Party has always been my home and will remain my home even after I leave office. I intend to continue cooperating with each and every one of you in joint public work for a better future for the citizens of Israel."

He explained his decision to go into politics in the first place "came from the desire to turn the entrepreneurial work into a national agenda: advance the Galilee and the Negev and create thousands of jobs for young people, just as we established the media quarter at the Old Jerusalem Railway Station and the cyber quarter in Be'er Sheva. We could do the same in other big parts of the country."

Margalit went on to say that "the best way for me to turn the agenda I'm promoting into reality on the ground is to bring together my public experience and entrepreneurial knowhow and lead a national social initiative: the economic development of entire areas, but also expanding Bakehila's activity to additional poor neighborhoods in the country, creating a new reality for thousands for children."

Zionist Union leader Avi Gabbay said he "regret(s) the resignation of MK Marhalit and welcome(s) his decision to work as an entrepreneur to advance the periphery and develop new growth areas in the country."

Margalit will be replaced by Lea Fadida, the deputy mayor of Yokne'am and a KKL-JNF official.