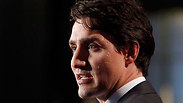 New Canadain Holocaust museum neglects to mention Jews
A Holocaust Museum is opened in Ottawa, where PM Trudeau makes moving inauguration speech and promises to fight anti-Semitism; however, memorial plaque does not mention the words 'Jews' or 'anti-Semitism'; following criticism, the sign is removed.
The inauguration of a new Holocaust memorial museum in Ottowa, Canada, which opened last week, quickly drew criticism after observars noticed that a plaque set at the entrance to the site did not mention the words "Jews" and "anti-Semitism."

Canadian Prime Minister Justin Trudeau took part in last week's inauguration ceremony, stressing that the place symbolizes how much hatred and tyranny can carry a heavy price. Trudeau noted Canada's commitment to combating anti-Semitism, racism and discrimination.

However, the new site quickly raised eyebrows, as the memorial plaque stating the museum was erected "in memory of millions of men, women and children who were murdered in the Holocaust" without mentioning the number six million or referring to the Jewish people.

inauguration

MP David Sweet criticized the lack of mention, which has been going on for more than a decade: "If we are going to eradicate hatred against the Jews, we should be accurate about history."




Canadian Heritage Minister Melanie Joly replied to Switt, explaining that the plaque would be removed, saying that the Holocaust Memorial Museum is a place in memory of six million Jews and another five million victims who were murdered during the Holocaust, and that the sign has since been removed.

This is not the first time the Canadians have become embroiled in the memory of the Jewish people. Last year, shortly after taking office, Prime Minister Trudeau tweeted "in tribute to the millions of victims who were murdered in the Holocaust," on International Holocaust Remembrance Day, without mentioning the Jewish people. After receiving criticism over this, his office stressed the importance of battling anti-Semitism.