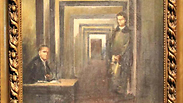 Vandalized painting by Hitler
An oil painting produced by the Nazi dictator Adolf Hitler was recently vandalized in an art exhibition in an Italian museum by an enraged man wielding a screwdriver yelling "Where is that piece of sh*t of Hitler's?"

The 40-year-old man, incensed by the museum's choice to display the painting, only managed to cause minor damage after stabbing it while screaming "sh*t head" due to the fact that it was covered with a protective layer.

Before he entered the political world and dragged the European continent into the Second World War, Hitler was an aspiring but failed artist, rejected repeatedly by academies.

The painting was submitted by the dictator—who liquidated millions of Jews and orchestrated the murder of hundreds of thousands of opponents and minority groups—as part of his application to the Vienna Academy of Fine Arts, from which he was rejected twice.

Despite the vandalism, the private German owner decided not to file a complaint against the perpetrator. After being restored, it was returned to the exhibit and will remain on display until November 19.

Speaking after the incident, the curator of the museum, Vittorio Sgarbi, said he agreed with the succinct description of the painting being a "piece of sh*t" but insisted that it has a place at the exhibition since it portrays madness and nothing is more crazy than war.

The painting, according to this rationale, is befitting of the museum known as Museo della Follia, the Museum of Madness.

"It's a piece of sh*t, it's a painting by a desperate man ... You don't see greatness but you see misery here," Sgarbi said in an interview with the Italian news agency ANSA. "It isn't the work of a dictator but that of a wretch, it reveals a profoundly melancholy soul."