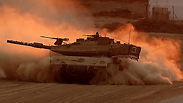 Merkava Mark IV
Photo: AFP
The US army has begun arming its tanks with the Israeli-made 'Trophy' protection system, capable of intercepting anti-tank missiles and rockets and other explosive weapons.

The American Defense Department gave General Dynamics Aerospace (GDA), an American defense company, a first contract worth $10 million to conduct research, development and the necessary trials to augment the Abrams M1A2 tank with the defensive system.

The US army plans to initially kit one armored brigade by 2019 with the Israeli technology which will be deployed before other brigades in crises around the world.

While it remains unclear how the work will be distributed between the GDA and the RAFAEL Advanced Defense Systems—the company behind the innovation—the deal is estimated to amount to a massive $300 million.

While the US rarely purchases foreign-produced weaponry, the aberration came after tests with the sophisticated armor, after American designers failed to complete the development of similar defensive devices.

The Trophy system was made all the more tempting to the US army in its current form given its proven capabilities on the battlefield after being appended to the latest IDF Merkava 4 tank.

The decision was also influenced by the Americans' concern over the fact that Russia has already equipped their tanks with a parallel defense system, and may sell it to their allies; China and Iran.

"Only two countries have developed and equipped to date a defense system for tanks, and one of them is our ally," an American general recently said in a congressional testimony.

The Ministry of Defense and RAFAEL are already working on a new generation of the system. At the same time, the Americans are expected to acquire the equivalent system of IMI Systems, Iron Fist, for their armored personnel carriers.

RAFAEL will present in the US next week a version of the Trophy protection system for light armored vehicles, and a remote controlled firing position that saves the need to externaly load ammunition during combat, which endangers the lives of soldiers.