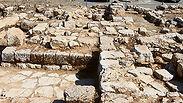 Remnants of the site
Photo: Alex Kolomoisky
Remains of 2,700 year old town discovered under IDF base
Archeologists uncover settlement estimated to be 2,700 year old underneath parade ground of fmr. Bahad 4 training base in Beit El; town was inhabited by Jews from days of First Temple until Roman era; various tools and seals found allow dating.
Archeologists working for the Civil Administration and excavating on the grounds of the former Bahad 4 training base in Beit El discovered a large Jewish settlement estimated to be 2,700 years old.

Bahad 4 was the IDF's largest training base for new recruits in the seventies, but has stood abandoned since 1995. Several weeks ago, archeologists from the Civil Administration's archeology division arrived the site of the former base.

Digging just under its parade grounds, they were astonished to discover the remains of a large Jewish settlement estimated to have housed dozens of residents.

Evidence found the on the site point to the settlement's existence in the days of the First Temple and that it was inhabited in the Persian period, grew during the Hellenistic and Hasmonean periods and remained in Jewish hands all the way up to the Roman period.

"The findings were amazing. Most of them were exquisitely preserved. We found keys to doors to housing units, work implements used by the Jews who lived there and a sort of seal, attesting to the period during which the town existed," said Yavgeni Aharonovich, an archeologist with the Civil Administration.

Findings discovered on the site point to the settlement remaining abandoned for years, before being reinhabited years later during the Byzantine period, this time by Christians—most likely monks—who created a monastery there.

Excavations uncovered a church, its mess hall—purportedly used by the monks—and a beautifully preserved bathhouse.

The Byzantine-era settlement existed until the Muslim conquest of Israel, at which point it was destroyed. The Christians were driven away and replaced by a Muslim population.

The site also showed remains from this latter period: storerooms with a large number of amphorae used for trading olive oil.

The site, experts say, we destroyed again in the great earthquake of 748 AD. Covered in earth, the settlement was eventually forgotten.

Now, it has been rediscovered.

"These findings are unbelievable. The site opens a window to virtually every historical period in Israel since the First Temple," explained Benny Har-Even, an archeology deputy officer with the Civil Administration.

The Administration stated it will now repurpose the site for visitors, a process expected to take several years.