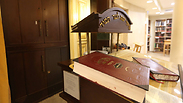 Jerusalem synagogue
Photo: Gil Yohanan
Construction of the first fully disabled-accessible synagogue in Jerusalem is about to be finished, giving disabled worshipers easy access to the compound, with comfortable sitting arrangements for wheelchair-bound visitors, Braille bibles and more. According to estimates, about 90% of the synagogues in Israel do not have accessibility for the disabled.

The synagogue is currently being built as part of the Herzog Hospital complex in the capital.

There are 1.4 million people with disabilities in Israel, and some of them cannot attend a synagogue due to accessibility problems.

Micha Oberman, CEO of Lavi Furniture Industries, has been hired to build the special furniture installed in the synagogue.

"We have worked hard to develop special furniture that provides easy access to the entrance and exit, seats and benches suitable for people with disabilities, a removable Torah ark with easy access for wheelchair-bound people and more," he said.

Oberman said his company has already carried out furniture work for synagogues around the country and the world, with accessibility for the disabled in mind, but that this is the first time a project has been carried out with the entire synagogue planned as to be accessible to the disabled from the ground up.

The synagogue will have easy access to it and inside the building. A ramp is to be built next to stairs leading from floor to floor. The synagogue will have wide aisles and entryways, doors made of glass and marked with yellow stickers for the visually impaired, bright lighting and special seating accommodations for those using wheelchairs.