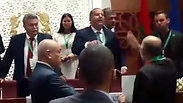 Peretz confronted by el-Halak
Labor MK and former party head Amir Peretz was greeted with aggressive protesting from a Moroccan MP upon visiting the North African Arab country on Sunday.

Peretz, who is visiting Morocco as part of a conference held by the Parliamentary Assembly for the Mediterranean and the World Trade Organization, was confronted by parliamentarian Achsan Abed el-Halak, an MP from the Muslim Workers' party.

El-Halak yelled at Peretz, "You're a war criminal! You were the Israeli defense minister and you're not welcome here."

Peretz is confronted by el-Halak

Despite being from opposite isles of the Israeli political sphere, it was former MK for the Likud and Hatnua parties, Majalli Wahabi, who came to Peretz's defense.

"You have no right to attack him," Wahabi told el-Halak, who was one of a handful of Druze MKs in Israeli history. "You are radical Islam. You're ruining Tunisia, Yemen, Lybia and Syria, and now you want to ruin Morocco."

Wahabi is an ambassador for the Parliamentary Assembly for the Mediterranean. As he defended Peretz, he said, "Amir Peretz is Moroccan, his father and mother are Moroccan, he was born here. You have no right to attack him." Peretz was born in Morocco in 1952, before making aliyah at age four.

The confrontation went on for 15 minutes.

A spokesperson for Peretz later said that the chairperson of the meeting later apologized, adding that "this minority cannot represent the parliament."

The chairperson continued to say that the organizaion strives for peace, and that Peretz was a wanted guest there.

"The opposition in Morocco has trouble acknowledging my relationship with Morocco and tries to destabilize it," said Peretz, who serves as the Parliamentary Assembly for the Mediterranean's vice president. "I don't intend to change my ways, and I intend to continue keeping formal and informal connections with Arab countries, and first and foremost with Morocco, where I hold a special position."