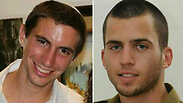 Israel's chief rabbis called on Jewish worshipers to dedicate Sukkot's Third Hakafah to prayers for the return of IDF soldiers Hadar Goldin and Oron Shaul, who were killed during the 2014 Operation Protective Edge and whose bodies are being held by Hamas in Gaza.

Hakafot (Hakafah in singular) is a Jewish custom in which the worshipers walk or dance around the synagogue's reader's platform with the four species on each of the seven days of the holiday.

Ahead of Simchat Torah, in which the Torah scrolls are taken out of the Ark to encircle the reader's platform and the entire synagogue, Chief Rabbis Yitzhak Yosef and David Lau called on worshipers to dedicate the Thid Hakafah to "our brothers whose location is unknown."




They also asked to "mention at the beginning of the Hakafah that we are praying and hoping for the quick return of Oron Shaul and Hadar Goldin and the other missing persons in Israel."

Alongside government efforts to return Hadar and Oron's bodies, the Goldin and Shaul families have launched a public campaign to raise awareness in Israel to the importance of bringing fallen IDF soldiers back to Israel for burial.

Simcha Goldin, Hadar's father, thanked the chief rabbis for their initiative. "The Goldin family places great importance on the mitzvah of bringing a fallen soldier back to Israel for burial, as Moses had done true charity when bringing Yosef to be buried in Israel. King David also emphasized the importance of this mitzvah when he made sure King Saul was buried in the Land of Israel."