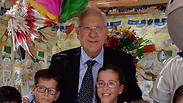 President Rivlin in his open Sukkah
Thousands visit Rivlin's open sukkah
Mingling with some 6,000 jubilant Israelis who flocked from around the country to visit the president's open sukkah, President Rivlin welcomes the people as 'guests and hosts,' tells crowds everyone is 'responsible for one another'; Rivlin asks clown 'What're you doing, buddy?' after he unexpectedly approaches and invites him to press his red nose.
Thousands of Israelis flooded President Reuven Rivlin's Open Sukkah throughout the day Monday in Jerusalem to celebrate the festival of Sukkot marked by Jews throughout the world.

Some 6,000 people flocked from the around the country to the sukkah where President Rivlin welcomed his guests and wished them "a happy new year, happy times for us and the entire people of Israel. Today, you are citizens of the state, both guests and hosts because this house belongs to you."

President Rivlin's Sukkah celebrations (צילום: לע"מ)

Rivlin also told his jubilant guests: "This year we highlight our connection, Jews of Israel, with Jews in the diaspora. We are all brothers and we are all responsible for one another, as a nation too. Israel is the only place that is defined as the state of the Jewish people, and it belongs to the entire Jewish nation."

During the festivities, Rivlin and his wife Nechama mingled with the crowds and toured various spots in his their Jerusalem complex.

He thanked the children of Israel for sending letters and drawings to the President's Residence, which he described as heartwarming.

However, not all was smiles after the president was forced to experience first-hand the phenomenon plaguing Israel of clowns unexpectedly creeping up on people—albeit in a less threatening and sinister manner—when a clown entertaining at the event suddenly approached Rivlin and invited him to press his red nose, to which the surprised president responded: "What are you doing, buddy?"

Earlier in the day, some 30 representatives from activist groups campaigning for people with disabilities who oppose the recently-signed agreement on disability benefits visited Rivlin's sukkah on Monday and asked for his support.