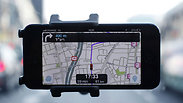 Waze blocked in Iran
Photo: Reuters
The Islamic Republic of Iran is seeking to shut down operations by the Israeli-made mobile navigation app Waze, Azernews reported quoting Iranian media.

Iran temporarily blocked the popular app as far back as last March, rendering it unusable in the country, which was lifted last month.

The committee supervising online criminal content demanded the Iranian Ministry of Communications block Waze once more, this time permanently.

The team intended to Iranians' honeymoon with the Israeli innovation has already been put together, the report added. Nevertheless, a total and permanent block may take some time given the complexity of its technological workings.

The reason for the all-out war waged by the Islamic republic on the shared navigation app is its Israeli roots. Waze is an Israeli company purchased by Google in 2013, whose offices—and most of its operations—are in Tel Aviv.

Relying on user intelligence, the app enables drivers to take the quickest possible route to their destination.

Justifying its previous attempt to obstruct access to the app, Iran claimed, "Waze was invented by Zionist developers."

In the meantime, a local Iranian app store already totally removed the option to download the Israeli innovation.

Waze declined to comment on the move and the company also refused to divulge how many users the app currently has in Iran. Despite the silence, it appears the app has a hardcore and loyal fan base.

Many users recount using the app on Twitter, for example, with one even petitioning the company for Persian language support due its "thousands of users" in the country.

"I used Waze on my way to work today. Iran has already blocked the app, but it seems they found a way to circumvent the blockage. An official committed to blocking it again," Ali Noorani, a journalist residing in Tehran, wrote on his Twitter account Sunday.

Should the attempt to block access to it be successful, Waze would find itself among many targets of the Iranian regime, as the Islamic country enacts rigid censorship and supervision on online content.

A number of popular internet services, in fact, are completely unavailable to Iranian users, including Facebook, YouTube and Twitter, although tools enabling users to bypass the blockages do exist.