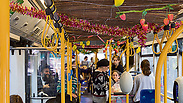 The Sukkot bus
Photo: Amit Shabi
Several surprises may come across your path during your morning commute, most of them unpleasant and irritating, but a different sort of shocker awaited the passengers of one bus: a regulation Egged bus done up to resemble a sukkah.

The person behind the initiative is none other than the bus's driver, Ihab, a Muslim resident of Ras al-Amud in east Jerusalem.

"My goal is to improve relations with my commuters, in light of the fact they're oftentimes strained, doubly so in Jerusalem," Ihab explained.

Footage of the festive bus (צילום: עמית שאבי)

The sukkah decorations were purchased with Ihab's own money in a store in the city's western quarters, and he invested three hours of work in putting them up on his bus.

"Response from the passengers has been charming. I hear a lot of 'Way to go,' 'Happy holiday' and 'What a charming thought' from most people," he said.

This was not the first time Ihab partook in the holiday spirit. During Passover he placed a Seder table in the middle of his bus.

"I haven't decided yet what I'll do the next time I decorate the bus. You also need to receive permission from Egged first, so God only knows," the overachieving driver concluded.