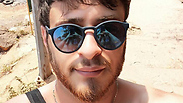 The Egyptian police on Tuesday arrested Nir Itach, a 24-year-old from Rehovot, in Sinai after examining his bag and finding M16 rifle bullets that had apparently been forgotten there from his days in the military.

The Foreign Ministry confirmed that he is being held in Nuweiba and that the Israeli consul is working on his release.

Itach left for Sinai Tuesday morning for a vacation.

His brother Almog told Ynet that "he took with him a bag from his military service that has not been used in a very long time. He did not check the bag very well and is currently under arrest. I will not let him stay there alone."

Itach's family left Tuesday afternoon for Sinai to support him.

Attorney Boaz Kenig, who is representing the family along with Attorney Mor Atia, stated that Itach is held due to a "simple mistake by a young Israeli," adding that they "hope and demand that the Foreign Ministry does everything so that Nir returns to his home in Israel as soon as possible."

This is the third time this year that an Israeli ex-soldier on vacation has been detained after M16 rounds were found in his luggage.

In March, a young Israeli man arrested in Uzbekistan's capital of Tashkent and detained for 12 days before finally being released.

In January, a young Israeli woman was arrested at the airport in Mumbai, India, and released shortly after following a speedy intervention of the Israeli Consul in Mumbai.

Such arrests have in fact become so frequent as to prompt the Foreign Ministry to caution Israelis to check their bags before traveling abroad.