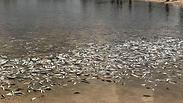 Dead fish in the Lachish River
Pollution kills thousands of fish in Lachish River
Environmental protection officials still unsure what caused the pollution, but they have been collecting samples and diverting the river to the sea to allow fish that survived to escape; visitors urged to stay away from Mei Ami Beach in Ashdod, where the river was diverted to.
Pollution from an unknown source has caused the death of thousands of fish in the Lachish River in Ashdod.

Ashdod environmental protection officials set out on Wednesday to locate the source of the pollution. They collected samples and opened up a path to the sea to offer an escape for the fish that survived.

The Mei Ami Beach in Ashdod, where the river was diverted to, was evacuated, and the Health Ministry issued a warning for visitors to stay away.

Pollution kills thousands of fish in Lachish River (צילום: עיריית אשדוד, רוי גוילי)

"There are thousands of dead fish in the river. This thing happens almost every year, and it is time to put an end to it," diver Roy Gevili told Ynet.

In recent years, millions of shekels have been invested to clean up the river, and it was cleared for boats several months ago.

"At the moment, there is no indication of any unusual pouring of sewage into the river from factories or of sewage system failure," said Daliya Tal of the environmental NGO Zalul. "The assumption is that the fish's death is the result of pollution that came into the river following the first rainfall, which brought into the river fuels, oils and dust that gathered on city streets during the summer. This can be avoided by cleaning the streets ahead of the first rainfall and stopping the polluted runoff from reaching the river."

Kobi Paltzi, the head of the Environmental Protection Department in the Ashdod municipality, said, "It is possible someone took advantage of the rainfall and poured materials into the river. Another possibility we're looking into is too much organic material and the lack of oxygen that might have led to the fish dying. We're waiting on the lab report."

The Ashdod municipality, the Environmental Protection Ministry and the Municipal Environmental Association are working to dispose of the dead fish.