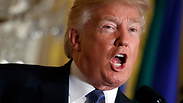 Report: Trump sought dramatic increase in US nuclear arsenal
NBC states that US Pres. Trump said he wants to return to nuclear stockpiling similar to what the US held in the '60s; Trump's reported comments come as tensions remained high with N. Korea and regarding Iran's nuclear program, which he has threatened to decretify; On Monday, Trump posed for a photo before declaring the moment to be "the calm before the storm."
US President Donald Trump wanted to dramatically increase the country's nuclear arsenal, he said in a meeting with his national security advisers in July, NBC News reported on Wednesday, citing three officials who were present in the room.

Trump's reported comments come as tensions remained high with North Korea and as Trump is expected to make an announcement on whether to decertify the international deal surrounding Iran's nuclear program.

The president spoke on July after he was shown a chart indicating the stockpile of US nuclear weapons had slid from a high of 32,000 in the 1960s. Trump said he wanted to have that same number now, NBC reported.

Trump threatening 'calm before the storm' (צילום: רויטרס)

The United States currently has about 4,000 nuclear warheads earmarked for use in its military stockpile, according to the Federation of American Scientists.

In a post on Twitter on Wednesday, the president said, "Fake @NBCNews made up a story that I wanted a 'tenfold' increase in our U.S. nuclear arsenal. Pure fiction, made up to demean. NBC = CNN!"

Trump said in an interview with Reuters in February that he wanted to ensure that the US nuclear arsenal was at the "top of the pack."

Although US presidents have modernized weapons stockpiles over the years, adding to the nuclear arsenal or building a prohibited type of weapon would be a violation of treaty agreements, according to NBC.

After the meeting, Secretary of State Rex Tillerson referred to Trump as a "moron," according to NBC. US news reports have painted the relationship between Trump and Tillerson as tense.

MSNBC reported in 2016 that as a candidate, Trump asked a foreign policy adviser three times in a one-hour meeting why the United States could not deploy its nuclear weapons.

It was also reported Monday night that two US B-1B "Lancer" bombers flew over the Korean Peninsula, according to South Korean news agency Yonap. The US military confirmed that the planes had carried out an exercise in conjunction with Japan and South Korea's air forces in the Japanese Sea, saying it was the first time American bombers had conducted a joint exercise with Japan and South Korea at night.

On Monday, Trump posed for a photo before dinner and declared the moment to be "the calm before the storm." This after discussing Iran and North Korea with US military leaders on Thursday.

"You guys know what this represents?" Trump said after journalists gathered in the White House state dining room to photograph him and first lady Melania Trump with the uniformed military leaders and their spouses.

"Maybe it's the calm before the storm," he said.