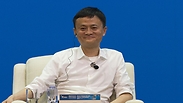 Alibaba Executive Chairperson Jack Ma
Photo: Getty Images
Alibaba to set up R&D center in Israel
Chinese e-commerce juggernaut Alibaba to build research and development center in Israel; move similar to those of Amazon, Ebay, Paypal, Google and Microsoft, all of whom have branched out to Israel; overall, Alibaba to invest $ 15M in 8 centers all over the world, focusing on AI, quantum computing and fintech.
China's top e-commerce firm, Alibaba Group Holding Ltd, is launching a $15 billion drive to build overseas research hubs as the deep-pocketed firm looks to compete with global leaders in e-commerce, logistics and cloud technology, including one in Israel. Additional R&D centers are to be built in China, the US, Russia and Singapore. This according to a statement by the company on Wednesday.

Alibaba's R&D branch, DAMO, will head the new centers, which will be focusing on artificial intelligence (AI), quantum computing and financial technology (or fintech). The company is planning to hire 100 researchers to work at its new centers.

"The Alibaba DAMO Academy will be at the forefront of developing next-generation technology that will spur the growth of Alibaba and our partners", Chief Technology Officer Jeff Zhang said.




The Chinese giant and its affiliates have undergone a rapid expansion in the past year, bringing it into direct competition with US e-retailer Amazon.

Along with an existing data science research lab in California, Alibaba has already opened new data centers in Europe, the United States, the Middle East, Australia, Japan, India and Indonesia since 2016, in a bid to boost its cloud business.

The investment also comes as Beijing prioritizes state funding in quantum computing, AI and big data, urging provincial governments, universities, the military and private firms to play a bigger role in developing advanced technology in areas where China trails developed countries.

It is yet unclear when Alibaba will begin to set up its Israeli center. Other international heavyweights, such as Amazon, Ebay, Paypal, Google and Microsoft, have also branched out to include offices in Israel.

Alibaba currently has 25,000 engineers on staff, it says, and says the new research infrastructure will help them meet a goal of two billion customers within two decades.