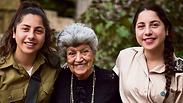 Yocheved and her granddaughters
70 years after Yocheved Ben-Shmuel, 89, doggedly accompanied convoys of fighters headed to a besieged Jerusalem as a Palmach combat medic, her two granddaughters from a picturesque northeastern Italian town decided to follow in her footsteps, and have made Aliyah and joined the IDF.

Yocheved was the daughter of a Zionist family that escaped a pogrom against the Jews of Azerbaijan to Baghdad. In 1936, she made Aliyah with her mother and sister.

"I joined the Palmach (the Jewish settlement's fighting force during the British Mandate) in 1945, served for two years and was discharged following my mother's passing," Yocheved said.

"I rejoined during the war and accompanied convoys to Jerusalem, which was under siege at the time. I was a combat medic and spent several months in the besieged capital myself. During the war we led hundreds of convoys up to Jerusalem, and I fought in the battle of Latrun," she excitedly recounted.

Ben-Shmuel later met an Italian man and moved with him to the town of Salice in Italy.

And so, it was almost 20 years ago that Ben-Shmuel's twin granddaughters Coral and Noa de Ross were born in that small Italian town of only 20,000 people. Theirs was the only Jewish family in the entire municipality.

"We asked questions about Israel for as long as we can remember and we'd visit grandma in the country every couple of years," Coral described.


"We went to a public school with Christian and Muslim students. But mom always spoke Hebrew to us," Noa added.

"We knew we might make Aliyah one day. During Operation Protective Edge we were with grandma in Ramat Gan and saw what was happening. I knew grandma used to be a fighter. Then, when we graduated from high school, we decided to come to Israel instead of go to university," Coral said.

In April, the two sisters enlisted in a Hebrew course together at the Michve Alon base. Later, Coral was transferred to basic training in the Jordan Lions Battalion, and Noa to the Palmachim Air Force base.

"Grandma was a huge influence on me. When I heard her tales of heroism from the War of Independence, I felt I wanted to follow in her footsteps," Coral said proudly.

Military service runs in the family, as apart from the grandmother and two granddaughters, the twins' father was also an officer in the Italian army.

"Our dad is worried, but he trusts the IDF," they conclude.

"Coral chose to become a combat soldier and has already been adopted into the Ma'ale HaHamisha kibbutz, not far from where her grandmother fought in the War of Independence to defend her homeland," said head of the Lone Soldiers' Department at the Kibbutz Movement Yael Eisner.