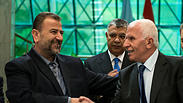 Fatah and Hamas sign reconciliation agreement
Photo: EPA
Israel criticizes Palestinian reconciliation deal: 'Doesn't include Hamas disarmament'
PMO sets series of conditions for Israel to accept the agreement, including recognition of Israel, an end to terror attacks, tunnel digging and missile manufacturing, the release of Israeli citizens Mengistu and a-Said and the return of remains of fallen IDF soldiers Goldin and Shaul.
Israel criticized the Palestinian reconciliation agreement signed in Cairo on Thursday, because it did not include Hamas recognizing Israel or the terror organization's disarmament.

"Any reconciliation between the Palestinian Authority (PA) and Hamas must include honoring international agreements and the Quartet conditions, first and foremost among them recognizing Israel and disarming Hamas," the Prime Minister's Office said in a statement.

Israel set a series of additional conditions that must be met before it would recognize the agreement, including a halt in the digging of tunnels and manufacturing of missiles, an end to terror attacks against Israel, the immediate release of Israeli citizens Avera Mengistu and Hisham a-Said and the return of the remains of fallen IDF soldiers Oron Shaul and Hadar Goldin.

"As long as Hamas does not disarm and continues to call for the destruction of Israel, Israel holds it responsible for all terrorist actions originating in the Gaza Strip," the PMO said. "Israel insists that the PA not allow any base whatsoever for Hamas terrorist actions from PA areas in Judea and Samaria or from Gaza, if the PA indeed takes responsibility for its territory."

"Israel will monitor developments on the ground and act accordingly," the statement concluded.

Zionist Union MK Zouheir Bahloul welcomed the agreement, saying it "once again pulls the rug from under the empty slogans of the Netanyahu government that claims there is no partner and created a responsible and unified leadership on the Palestinian side."

His fellow Zionist Union member, former foreign minister Tzipi Livni, allowed that "Egypt's involvement and the PA entering Gaza constitute an opportunity for change," but added that "as long as Hamas remains an armed terror organization, the Palestinian reconciliation deal is a legitimization of Hamas and terrorism rather than taking control of it."