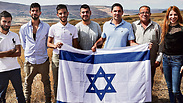 The anti-BDS team will leave as planned despite harassment and threats
A "dream team" comprised of minorities, including Muslim Israeli citizens and even a Palestinian, will embark on a trip to the US and Europe on Friday to face activists from the Boycotts, Divestments and Sanctions (BDS) movement. But before ever taking off from Israel, they have already been the target of a campaign of incitement.

Reservists on Duty planned to send this team—comprised of two Muslim Israeli-Arabs, a Palestinian, a Druze, a Bedouin and a Christian Israeli-Arab—to elite American and European universities to speak, in fluent Arabic and English, against BDS, denouncing it and the delegitimization campaign it wages against Israel.

However, immediately after the unique delegation was made public, several of its members began suffering a spate of humiliations, threats and insults online.

"I was called a traitor, and they said my place was in hell," said Dima Tiya, 25, of Kafr Manda in the Galilee.

"Both my father and I were slighted. I've been suffering harassment, threats, degradation and mental anguish. I was sent dozens of hateful message through Facebook. Nevertheless, I'm completely at peace with this sojourn to the US. The threats, curses and degradation will not scare me off it," she stated.

"I'm an Israeli and a Muslim who's pleased and proud of my country. I'm a Muslim and an Arab who isn't worth any less than those cowards hiding behind their keyboards. I intended to go to the police and make sure all of these net bullies are investigated, then we'll see who's a hero," she said defiantly.

Qassem Halila, 24, an Arab Muslim originally from Iksal in northern Israel, had to leave the village of his birth and return to Tel Aviv. "Immediately after the article was published, it was translated and uploaded to several popular Facebook pages in the Arab sector, with hundreds of thousands of followers, and 99 percent of the comments were curses. I also got threats I should be burned," he said Wednesday.

"I'll be handling all of the comments via legal channels, and they just go to show how much this US trip is important," he concluded.

"This exceedingly quality team of people will provide a proper response to the incitement campaign waged by BDS activists against Israel," said Reservists on Duty Director Amit Deri.