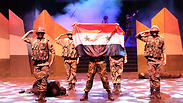 The Syrian play marking the 1973 war
Photo: EPA
Marking 44 years to what the Syrians call the October War and Israel calls the Yom Kippur War, a musical play was staged at the Damascus Opera House last week that drew a link between that war and the ongoing civil war in Syria.

The play, titled "The victory - the Hour of Patience," was sponsored by TAMUZ, the Syrian Organization for Martyrs Families Support.

Sitting in the audience were Fahd Jassem al-Freij, Syria's defense minister, Syria's mufti Ahmad Badreddin Hassoun, artists, media figures, and families of fallen Syrians.

Syrian play marks 44 years to Yom Kippur War

"The celebration of 44 years to the October liberation war, which the Syrian army fought against the Israeli occupation, happens at the same time as the campaign waged by the brave Syrian army against the wild terrorists. Behind such wars are always world powers and regional regimes," said Dr. Mazen Hamedi, the head of the organization's board of directors.




According to regime-affiliated newspaper Al Watan, the play, which combines acting, singing, dancing, visual art and cinematic scenes, deals with the bravery of the Syria army in the Yom Kippur War and the steadfastness of Syria's citizens, particularly the mothers who sacrificed their beloved sons.

The plays also deals with more current events, such as the liberation of Aleppo. "Our creation tells of the value of martyrdom, so we can prove to the world we have a leading, brave army and a people that embraces it and supports its sacrifices and victories," Hamedi told Al Watan.

The annivary of the war was also marked by both state press and state television in Syria, with comparison once again being made between the 1973 war and the civil war.

The regime-affiliated Al-Ba'ath newspaper, for example, published an article under the headline "Has the October war really ended?"

In it, the paper argued, "Is there a clearer and more obvious evidence of the veracity of the claim the October war is continuing than the Zionist existential war and the American and European reactionary forces? A war is being waged against Syria for seven years now, bringing together armies and monsters from over 130 states."

Syria's Defense Minister al-Freij also drew a link between the two wars during a tour of the outskirts of Quneitra near the Israeli border last week. "Every achievement the Syrian military and its allies have in the war against Israel's proxies and its agents is a continuation to the victory achieved in the liberation war of October against the abusive Zionist entity," he said.

The Syrian troops stationed in the area welcomed the defense minister with photos of Syrian President Bashar Assad and Syrian flags.

"Syria as a people, a military and a leadership continues to fight terrorism with confidence, until it is uprooted," al-Freij told the soldiers.