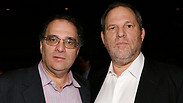 Bob Weinstein (L) with brother, Harvey
Photo: Getty Images
Bob Weinstein disavows 'predator' Hollywood mogul brother Harvey
After removing his brother, Harvey Weinstein, from the helm of their shared movie company over an avalanche of sexual misconduct allegations, co-founder Bob Weinstein claims he did not know about brother's deeds, considered for decades to be 'an open secret' in Hollywood; 'I want him to get the justice he deserves,' he says. 'I am sick for the victims. And I feel for them.'
The brother of disgraced movie mogul Harvey Weinstein and co-founder of the company that now finds itself in crisis says he's in "a waking nightmare" and had no idea "the type of predator" his brother is accused of being.

"I want him to get the justice he deserves," Bob Weinstein said.

Bob, 62, operated in the shadow of his much more public and flamboyant older brother for more than 30 years as they partnered in Miramax and, more recently, The Weinstein Co. But in an interview published Saturday by The Hollywood Reporter, he said that he and Harvey, 65, have barely spoken in five years. The brothers ran separate divisions of their company, from opposite coasts—Bob in Los Angeles, Harvey in New York.




"The members of the board, including myself, did not know the extent of my brother's actions," Weinstein said in the interview, referring to what has been repeatedly been called "an open secret" in Hollywood. He said he knew his brother was unfaithful to wife Georgina Chapman, "philandering with every woman he could meet," but insisted he had no idea his brother was allegedly committing acts of sexual harassment and assault.

"I'll tell you what I did know: Harvey was a bully, Harvey was arrogant, he treated people like (crap—ed) all the time," Bob said. "I'm mortified and disgusted by my brother's actions. And I am sick for the victims. And I feel for them."

The women who accuse Harvey Weinstein of sexual harassment and abuse range from non-acting professionals in the film making industry, models, aspiring actresses and Oscar winners. Each has told their story about an inappropriate run-in with the movie mogul in recent days, leading to the swift downfall of one of Hollywood's most powerful men.

Testimonials from actresses such as Kate Beckinsale, Angelina jolie, Gwyneth Paltrow, Mira Sorvino, Ashley Judd, Rose McGowan and many more have prompted a public the examination of one of the industry's oldest problems—its mistreatment of women.

McGowan and Asia Argento accuse Weinstein of sexual abuse, allegations the 65-year-old producer has denied through a spokeswoman. In all, some 30 women have alleged abuse in recent days.

A week ago he was fired from The Weinstein Co., which will now undergo a name change as it struggles to survive the current scandal.

Despite widespread predictions that the company will be forced to shut down or be sold, Bob Weinstein said, "There is a plan to come out on the other side."

Meanwhile, French President Emmanuel Macron's office announced on Saturday that France has started the process of stripping Harvey Weinstein of his Legion of Honour, France's highest civilian distinction, due to the allegations of sexual harassment and sexual assault.

"The French Presidency has started discussing this case with the Grande Chancellerie de la Legion d'honneur," a spokeswoman said. "A decision will be taken after this discussion.

"The Presidency considers that this behaviour is in contradiction with honour," the spokeswoman added.

Weinstein received the Legion of Honour, "Chevalier" grade, from President Nicolas Sarkozy in March 2012.

The Grande Chancellerie de la Legion d'honneur is the body in charge of the decoration, established in 1802 by Napoleon Bonaparte.