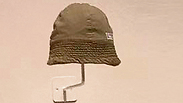 The MOMA tembel hat
Photo: Consul General Dani Dayan
NY art museum to display iconic Israeli tembel hat
Israel's iconic tembel hat to appear in exhibit by NYC's Museum of Modern Art titled 'Items: Is fashion modern?', exploring clothing that has made an impact on the world in 20th, 21st centuries; NY Consul General Dayan: 'Hat's inclusion source of Israeli pride.'
The iconic Israeli tembel hat, one of the country's most recognized symbols in the past, will be proudly displayed, hung from a pole in New York City's famed Museum of Modern Art (MOMA).

The hat, particularly associated with the cartoon image of Srulik, a sort of Israeli everyman created by illustrator Dosh—the pen name of Kariel Gardosh—lost some of its luster in the 1980s.

Nevertheless, it will now be prominently featured at a new exhibit in the world's most famous museum, among other iconic fashion and cultural items such as a Rolex watch, a biker-style leather jacket and spanx.

The exhibit, titled "Items: Is fashion modern?" explores the present, past—and sometimes future—of 111 items of clothing and accessories that have had a notable impact on the world in the 20th and 21st centuries—and continue to hold currency today.

Israeli fashion historian and curator Yaara Keydar proposed the classic Israeli chapeau be added to MOMA's exhibition.

"I was contacted by the exhibit's own curator. I thought of a few other things, such as biblical sandals, but the tembel hat was just a perfect representation," Keydar said.

Keydar contacted the no-less iconic ATA clothing company and was thus able to provide MOMA with a tembel hat manufactured between 1945 and 1955.

"It appears what we now consider to be outmoded, and perhaps even a little ridiculous, was showcased as an inalienable asset in the annals of world fashion. That is another source of Israeli pride in New York," said Consul General of Israel in New York Dani Dayan.