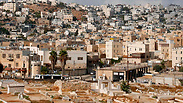 Avraham Avinu settlement, Hebron
Photo: AFP
Israel reportedly approved on Monday building plans for 31 settler homes in Hebron in the West Bank, according to anti-settlement watchdog Peace Now.

If confirmed by the Israeli government, it would be the first time Jewish homes are built within the city area in some 15 years.

Prime Minister Benjamin Netanyahu's government has made numerous announcements of settlement building recently, angering Palestinians seeking a state on land Israel captured in the 1967 Six-Day War, but no longer eliciting serious US criticism with President Donald Trump in the White House.

Still, settlement advocates say that despite a string of announcements for construction of thousands of settler homes in the West Bank, only a fraction might be built eventually.

Hebron's population holds 216,000 residents, with about 1,000 Israeli settlers living in the heart of the city. Peace Now spokeswoman Hagit Ofran said the new permits would increase the settler population there by 20 percent. She said the move will be appealed.

Peace Now detailed the project's plans in an area of Hebron where the settlers live and its web site showed a graphic of what the prospective four-story, stone-clad apartment block would look like.

It said the last time settler homes were built in this area was in 2002.

Hadar Horen, a spokeswoman for the Coordinator of Government Activities in the Territories (COGAT), could not confirm the details issued by Peace Now and said the planning committee decision would be published at a later date.