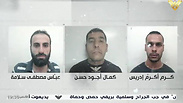 The three alleged Mossad spies arrested in Lebanon
Lebanon-based terrorist group Hezbollah claimed on Monday that Lebanese security forces have detained three "agents on behalf of Israel," allegedly recruited by the Mossad. Hezbollah-affiliated Al-Manar television network broke the news, while the pictures and alleged confessions of the three men were published on the internet. The three's arrests were published last week in the Al-Akhbar newspaper, which is also affiliated with the organization.

According to reports, the three were members of a spy cell that operated on behalf of Israel in the Mount Lebanon region. The members of the captured cell are reportedly from Lebanon. According to Al-Akhbar, the cell's key operative instructing its members from afar was a Lebanese citizen who is currently in Israel.

According to the Al-Manar network, the three are Karem Akram Idris, Kamal Ajud Hassan and Abbas Mustafa Salameh. Reports state that Hassan had admitted to be in contact with several Israelis in '11, among others with the IDF's Spokesperson Unit's Arab Media Liaison, Maj. Avichai Adrei. In addition, he said that he was in contact with an agent named Yosef Fahar, and that his operative's code name was "cowboy."

Idris allegedly began working for the Mossad in '15. Among his other instructions, he was sent to photograph Hezbollah artillery stations in the city of al-Qusayr, located on the outskirts of Homs, where Hezbollah's involvement in the civil war in Syria and the Beqaa Valley had begun. He then sent his operative footage of the organization's positions in al-Qusayr and its deployment there.

Salameh, a teacher, reportedly began collaborating with the Mossad about two years ago, through social networks. He contacted Samar Araj, another supposed Mossad agent, now believed to be on the run, who asked Salameh to photograph several areas in southern Lebanon. Salameh was also reportedly asked by the cell's operative to provide him with information about military sites and places belonging to the Lebanese political parties.

Salameh, for his part, asked for financial support in order to start a civil revolt in Lebanon. He told the operative that he was capable of rallying one of the civilian groups to action in an effort to slander Hezbollah's reputation. He also tried to get closer to people who knew Hezbollah members in order to obtain information from them that he would pass on to his Israeli operative.

In an article published last week in the Al-Akhbar newspaper, it was claimed that several people working for the Mossad in Lebanon have recently been arrested, and that their interrogations revealed that most of their missions were related to reconnaissance on Hezbollah operatives and strongholds.