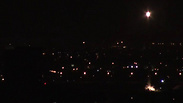 Israeli sorties bombed targets in the Sinai Peninsula Sunday evening in retaliation for two rockets launched at Israel from the Egyptian territory hours earlier, according to Tuesday report in the London-based newspaper Al-Araby Al-Jadeed.

One of the rockets exploded in open space in the Eshkol Regional Council near Gaza and was located following the IDF's searches of the area. No casualties were reported in the attack for which ISIS took responsibility.

Footage allegedly showing rockets launched from Sinai

The report, which has not been verified, quotes tribal factions from the area claiming that Israeli jets were seen flying in the skies shortly after the launches.

A video filmed in the Gaza region which has recently surfaced purports to show the rockets being launched.

According to the report, Israeli jets appeared only once the Egyptian air force completed its own strikes in the areas of Rafah and Sheikh Zuweid in northern Sinai, as President Abdel Fattah al-Sisi's military seeks to expunge terrorists from the peninsula.

Despite taking responsibility for the rocket launches, ISIS made no mention on its official news agency, Amaq of an Israeli retaliatory assault.