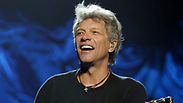 Jon Bon Jovi in Israel
Photo: Yaron Brener
Rockstar Jon Bon Jovi and his band and pop singer Robbie Williams are both expected to return to Israel in 2018.

Representatives of Bon Jovi have been in talks with several Israeli producers to bring the band to Tel Aviv in May 2018.

The band, which performed in front of 54,000 people at Yarkon Park in October 2015, has not yet signed a contract to return to the Holy Land, but the sides have exchanged drafts including costs.

British singer Robbie Williams, who performed in Israel in the summer of 2015, is also expected to return to Tel Aviv.

Initially, Israeli producer Marcel Avram booked Williams for a concert in September 2017 but eventually decided to postpone due to a concert-filled summer.