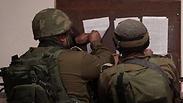 The IDF's raid
Photo: IDF Spokesperson's Unit
IDF raids Palestinian media companies suspected of incitement
Israeli security forces raid West Bank offices of 8 Palestinian media, production companies working with Hamas and Islamic Jihad-affiliated TV channels; equipment was impounded and two suspects arrested during raid; channels—based in Gaza, Lebanon—will continue broadcasting.
IDF and Shin Bet forces raided eight media and production companies providing services to Palestinian television channels affiliated with Hamas and Islamic Jihad overnight Wednesday.

Equipment was impounded during the raid and two suspects were arrested on suspicion of incitement.

The IDF served closure orders to several companies, including Pal Media, Ram Sat and Trans Media in Nablus, Hebron and Ramallah. During the raid, forces also entered the offices of the Palestinian television channels at the buildings owned by the media companies.

The companies provided services for, among others, Hamas's Al-Quds and Al-Aqsa channels and the Palestine Al-Youm channel affiliated with Islamic Jihad. The three aforementioned channels broadcast from Gaza and Lebanon and are considered very popular among Palestinians both in Gaza and the West Bank.

The channels did not cease operations, however, as they are based in Gaza and Lebanon. The purpose of the raid was to merely shut down their physical presence in the West Bank.

Thus, in a joint IDF-Shin Bet-Civil Administration operation, forces raided Palestinian media outlets and production companies suspected of disseminating and broadcasting inciteful materials encouraging terrorism.

The IDF noted this operation was part of an extended thwarting effort, as part of which security forces carry out operations against all components of terrorism, including incitement.

Footage of the raid

"Security forces will continue working against incitement to terrorism out of the understanding it is a direct cause of terrorist attacks, which are inspired by it, and ground-level support of terrorism," the IDF Spokesperson's Unit said.

On a related matter, IDF, Shin Bet and Border Police forces arrested 18 wanted Palestinian suspects, 15 of whom were arrested on suspicion of involvement in street-level terrorist activity and violent rioting aimed against both civilians and security forces.