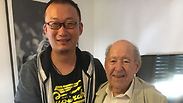 Chinese historian Yan Jingsheng (L) and his hero Solomon Perel
Chinese blogger weeps at meeting Holocaust survivor
Popular Chinese blogger delegation visits Israel, meets with 93-year-old Holocaust survivor Solomon Perel; one of delegation's members, historian Yan Jingsheng, who read Perel's book Europa, Europa and watched the movie based on it, tearfully embraced Perel; 'I cried upon meeting this hero in real life. I never believed it could happen,' says Jingsheng.
Solomon Perel, a 93-year-old Holocaust survivor who wrote the book Europa Europa, gave a talk to a delegation of famous Chinese bloggers, one of which was a historian who watched a movie based on Perel's book and was moved to tears upon meeting its author.

In the past few days, as part of the "Young Chinese and Japanese leaders" program instated by Prime Minister Benjamin Netanyahu and the Ministry of Foreign Affairs' Asia department, a delegation of eight famous Chinese bloggers has been touring Israel.




The program's goal is to strengthen the ties of friendship between Israel and the Asian nations and to promote collaborations in several areas.

The Chinese blogger and Holocaust survivor's heartfelt meeting

The eight bloggers have more than 35 million cumulative followers on China's largest microblogging social network, Sina Weibo, a sort of amalgamation between Facebook and Twitter. Each and every one of the bloggers is considered a star in their Chinese homeland.

Tang Wei is an actress and model with five million followers, Lin Ji is a children's caricaturist with 14 million followers, Zhang Yuan is one of China's most well-known children's authors with 6.4 million followers and food blogger Zhan Hauran has five million followers.

During the visit, the bloggers met with Perel, whose book Europa Europa was adapted into a highly successful, Golden Globe winning movie, which was also nominated for an Academy Award. The work is based around Perel's own autobiography, who impersonated a member of the Hitler Youth movement during the Holocaust to survive.

The assembled Chinese bloggers respectfully shook Perel's hand, when one of them— historian Yan Jingsheng, who has six million followers—realized the man whose hand he was shaking was the hero of the book Europa Europa, he was so deeply moved he began weeping and hugging Perel.

"I read the book, I watched the movie, and I was moved to tears when I was suddenly face-to-face with this hero in real life. I never believed it could happen," Jingsheng said Tuesday.

Perel was no less moved by the encounter. "The meeting was divine providence. It's like finding a pin in the middle of the ocean. I've never met any Chinese people, and the first one I came across knows me and my tale and was moved to tears at meeting me. Now I'm choked up with tears," he said.

The project's coordinator Nurit Tinari-Modai had some concluding words. "There are a billion Chinese people. How could this particular one read the book, watch the movie and then happen to meet the hero of both? God works in mysterious ways," she said.