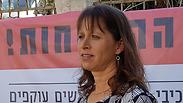 Hadas Mizrahi, who lost her husband in a terror attack
Photo: Eli Mendelbaum
Settler leaders, bereaved families protest delay in funding for security
In press conference outside PM's residence, West Bank settlers criticize Netanyahu and his government for failing to allocate budget for security measures for their communities; 'We've had enough of promises and we're fed up of excuses,' says Kiryat Arba leader.
Bereaved families and settler leaders harshly criticized Prime Minister Benjamin Netanyahu and his government on Wednesday, saying they are still waiting for a budget to be allocated for security measures they were promised for their communities.

Samaria Regional Council leader Yossi Dagan, Kiryat Arba Council Leader Malachi Levinger, Beit Aryeh Council Leader Avi Naim and Beit El Council Leader Shai Alon were joined in a press conference outside the Prime Minister's Residence in Jerusalem by families who lost loved ones in terror attacks in the West Bank.

The settlers say they've met with Netanyahu three times over the past two months to discuss the security situation in their communities, but they claim their pleas have fallen on deaf ears.

"If they don't give us security, I'll come back here with my children, because this is our chance to prevent the next attack," said Hadas Mizrahi, whose husband Baruch Mizrahi was killed in an attack on the way to Seder dinner in Kiryat Arba in 2014. "I've suffered a serious injury, and I'm raising five children who are dealing with this traumatic event on my own. I call on the prime minister and defense minister—wake up."

Samaria Regional Council leader Dagan slammed Netanyahu, claiming, "We're being given the run around. There is no plan to deal with this negligence in security. There's a gap between the statements we hear and the results on the ground."

Beit Aryeh leader Naim also spoke about "a big gap between the newspaper and TV headlines and what's happening in reality. For years now, we've been promised funds and nothing happens. This reality, in which we are being ignored, only exacerbates the crisis of trust between us and the prime minister."

Levinger, the Kiryat Arba leader, said Netanyahu "promised us things would start moving and advancing, and we will receive the funding. But that didn't happen. We've had enough of promises and we're fed up of excuses."

Alon, the Beit El leader, asserted that a change in the budget requires a crisis. "We've handed the prime minister a letter on behalf of all Judea and Samaria municipal heads," he explained.

The Prime Minister's Office noted Netanyahu said during a Likud ministers meeting on Sunday that he would advance a solution to funding the construction of bypass roads, even if it requires across-the-board cuts in government ministries.