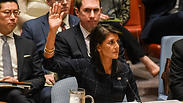 Nikki Haley
Photo: Reuters
US, Israel urge UN to adopt Trump's comprehensive approach to Iran
US Amb. to UN Haley tells Security Council Iran 'has repeatedly thumbed its nose' at council resolutions aimed at addressing Iranian support for terrorism, saying 'this must stop'; Israeli Amb. to UN Danon adds Iran continues to threaten the world through financing and spreading international terrorism, human rights violations, anti-Semitism, and attempts to destroy Israel.
US Ambassador to the United Nations Nikki Haley urged on Wednesday that the UN Security Council to adopt the Trump administration's comprehensive approach to Iran and address all aspects of what she calls its "destructive conduct"—not just the 2015 nuclear deal.
Haley told the UN Security Council that Iran "has repeatedly thumbed its nose" at council resolutions aimed at addressing Iranian support for terrorism and regional conflicts. She detailed its threatening the US, Israel, its own people and the world at large.
She added that "Iran hides behind its assertion of technical compliance with the nuclear deal while it brazenly violates the other limits of its behavior, and we have allowed them to get away with it. This must stop."
Haley speaks before the UN Security Council (צילום: United Nations)
Haley said Iran's most threatening act is its repeated ballistic missile launches, warning that "we will soon have another North Korea on our hands."
Israel's ambassador to the UN, Danny Danon, also demanded that the Security Council act against Iran. Danon stated that for four decades Iran has continued to threaten the world, either directly or through its various branches. He urged the council to acknowledge "the grave consequences of Iranian aggression."
More specifically, Danon referred presented the council with four main charges against Iran: that it was guilty of financing and spreading terrorism in the world; of human rights violations; of anti-Semitism; and of attempts to destroy the State of Israel. He went on to detail the Iranian regime's crimes against the Iranian people, with those suspected of adultery as well as and gays and lesbians being stoned to death.
Danon concluded his statement by saying that Iran is guilty of all these crimes, and that the council must enforce its decisions, for Israel's benefit but also for the world's.


The UN Security Council also touched on the Israeli-Palestinian conflict, partly in light of Defense Minister Avigdor Lieberman earlier statement, that the Israeli government is "working at a pace not seen since 2000" to further approve construction in the territories. Lieberman's statements were made during a press conference announcing the approved construction of the settlement.
In response, Riyad Mansour, the Permanent Observer of Palestine to the United Nations, rebuked Lieberman and the Israeli coalition during a UN Security Council meeting on Wednesday, claiming they "disregard international law" and are entirely disinterested in peace.
"You have to know that they not only say what they mean, they also do exactly what they say," Mansour said after quoting Lieberman's statement.
"Minister Lieberman and the rest of his coalition oppose peace, disregard international law and make the two-state solution impossible," he added, wondering aloud why "when Israel repeatedly proves its bad intentions, the international community continues to give it the benefit of the doubt."