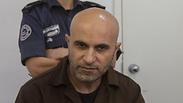 Wisam Zabitat
Photo: Ido Erez
An Israeli man from the northern Arab town of Sakhnin was sentenced Thursday to five years and ten months in prison for joining ISIS, along with his wife and three children. The sentence is the heaviest to have been meted out against an Israeli for joining the terror group.

Receiving his sentence at the Haifa District Court, Wisam Zabidat was also ordered to pay a fine of NIS 14,000. His wife, Sabrin, who was also convicted of similar crimes, was sentenced a few months ago to serve four years and two months in prison.

Last June, Zabitat was found guilty by the Haifa District Court for committing the offense of membership in a terror organization,

He was further found guilty of taking part in prohibited military training and establishing contact with a foreign agent.

Zabitat and his wife, together with his eight-year-old son and two daughters, aged 6 and 4, travelled to Romania in June 2015 in order to attend a ceremony for a relative who completed his academic studies.

There, the family decided to continue on to Turkey from whence they crossed into Syria. Four of their family relatives travelled to Turkey in order to persuade them to return to Israel. However, they failed to establish contact with them.

After joining the group, Zabitat served as a guard in an ISIS compound but decided to return back to Israel with his family due to the difficult situation they were enduring in Mosul. After being arrested in Turkey, they were handed over to Israel last year.

"Yes, I was in Mosul and I joined ISIS," confessed Zabitat during his court hearing last year. "I decided to return to Israel without anyone pressuring me."

Zabitat also participated in raids on the Iraqi army and suffered a wound to his leg as a result of his activities.

His wife and children returned to Israel in August 2016 via Turkey after one of the family members convinced them to do so. A few days later they arrived in Israel and were arrested upon their arrival.

According to a Shin Bet statement, during the investigation of the couple, before they departed from Israel they were exposed to ISIS videos and content that had a profound influence on their decision.

In Turkey they contacted a resident of Umm al-Fahm via Facebook who also joined ISIS in 2013 who helped them cross the border into Syria using people smugglers.

Arriving at the Turkey-Syria border, the Zabitat family was picked up by members of ISIS who took their Israeli passports and transported them to Raqqa.

Wisam was separated from his wife and children and sent to a camp in Iraq where he underwent training and was indoctrinated on religious scripture and ideology.

Thereafter, Wisam was taken to a military training camp where he learned to shoot guns and RPGs.

Upon completion of his training, Wasim was subsequently sent to participate in operations. During one such operation, he sustained a leg injury and was evacuated to the hospital in Mosul.

Since ISIS was founded, 40 Israeli citizens have succeeded in joining its ranks, and five of them have been killed.

To date, ten Israelis have been arraigned out of a total of 50 arrested on suspicion of joining ISIS abroad before returning to Israel. Others who planned to exit the country to join the organization were arrested beforehand.

Scores of Israelis, as many as around 60, have joined ISIS, many of whom have been killed while fighting, arrested or remain abroad.