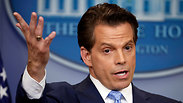 Anthony Scaramucci
Photo: AP
Scaramucci polls Twitter followers on nr. of Holocaust victims
Fmr. White House Communications Director Anthony Scaramucci's media organization polls Twitter followers on how many people they think died in Holocaust; Scaramucci initially apologizes for poll, then promotes it; 69 percent believe 'more than 5 million', 25 percent 'less than one million.'
The official Twitter account for a media venture started by former White House Communications Director Anthony Scaramucci published a poll Friday asking its followers to vote "How many Jews were killed during the Holocaust?", only three days after publishing a similar poll—and removing it after an hour and a half.

Scaramucci, who served as communications director for only 10 days before being ousted by President Donald Trump, announced the creation of an eponymous news site—The Scaramucci Post—back in September.

While the site itself is not yet operational, its official Twitter account is, boasting some 25,500 followers. On Friday, it polled them on how many people they thought were killed in the Holocaust.
How many Jews were killed during the Holocaust?

— ScaramucciPost (@ScaramucciPost) October 20, 2017
The poll options were "less than a million", "between one and two million", "between two and three million" and "more than five million." As of this writing—and with almost 33,000 people voting—25 percent of the voters chose the first option of less than one million victims, whereas 69 percent chose the last option of more than five million.

This was the second time the poll was floated by The Scaramucci Post, whose Twitter account is operated by Scaramucci's business partner Lance Laifer, who is Jewish.

After the first poll was taken down, Laifer wrote on Twitter that, "The intent of the poll was to highlight ignorance of the basic facts of the Holocaust. I take full responsibility for it."

Scaramucci himself commented on the poll's original removing, writing on his private Twitter account Thursday that, "If anyone was offended by this act, you have both my sincere personal apology and commitment that it will never happen again."

"I have publicly criticized the white supremacy movement and understand that the Holocaust was one of the most abhorrent moments in world history," Scaramucci added.

Nevertheless and despite the above statements, Scaramucci retweeted the new poll to his 850,000 followers, adding, "Please vote and retweet. Do not let Holocaust deniers and anti-Semites control this poll. Six million Jews perished in the Holocaust."

Many were outraged at the poll, including Jewish-American writer and journalist John Podhoretz, who tweeted, "Delete this disgusting thread AND the poll, you unimaginable fool."
Delete this disgusting thread AND the poll, you unimaginable fool. https://t.co/sjNDA7RwuQ

— John Podhoretz (@jpodhoretz) October 20, 2017
Scaramucci, originally a New York financier, was a large donor to the Republican Party. He was considered part of Trump's inner circle and defended him on television numerous times.

On July 21, Trump returned the favor by appointing Scaramucci his White House Communications Director, a position he held for only 10 days, until July 31.