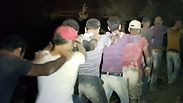 The suspects led away from the scene of the heist
Police Spokesperson's Unit
Largest theft attempt of past several years thwarted, 27 Palestinians arrested
67 Palestinians illegally residing in Israel stopped in largest heist in recent history, including tens of tons of agricultural produce; 27 adults arrested for questioning, with the remaining 40 minors released home; Border Patrol confiscates the vehicles used in the theft attempt.
67 Palestinians from the Palestinian town of Beit Awwa were stopped in an apparent attempt to steal including tens of tons of agricultural produce. The heist was being carried out on Saturday evening by 27 adults and 40 children and teenagers, who together harvested the enormous amount of produce from Moshav Shekef in the Lachish region, near the West Bank Barrier. The heist attempt appeared to be the largest agricultural theft in recent years.
Border Police officers arrested 27 adult suspects, while the children were released.
Border Police investigators estimate that the suspects picked between 20 and 24 tons of grapes and another 5 to 7 tons of tomatoes, while also damaging greenhouses and agricultural property with the intention of spoiling them.
Suspects caught mid-theft (צילום: דוברות המשטרה)
According to suspicions, they intended to sell the produce on the local market at Beit Awwa.
Border Police investigators are examining how the Palestinians managed to cross the security barrier. Thwy have also confiscated four vehicles allegedly used by the thieves.
The Border Police praised the rapid reaction of the units that apprehended the suspects, located most of the produce and seized them in the act.


One of the residents of Moshav Shekef responded to the heist, saying, "They waded through water at a height of five and a half meters, entered the greenhouses and vineyards and literally set up their own market.
"They also destroyed the greenhouses. They took advantage of the fact that there are no workers here on Saturday.
"They opened up a market at the entrance to the nearby village and sold it to the residents. The army was summoned to the scene and people were arrested. One of them was caught with NIS 12,000 in cash, apparently after selling the fruits and vegetables."
The resident added that "unfortunately, this is a phenomenon that is repeated almost every day. We are constantly dealing with it, but there is no enforcement. Despite the wall that was built, despite the security measures and despite the army's presence, the thefts do not stop."