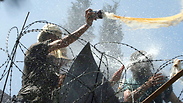 The evacuation of Homesh and Sa-Nur in 2005
Photo: Amit Shabi
The Ministerial Committee for Legislation is expected to pass a bill proposal to repeal the 2005 Disengagement Law in the northern Samaria. It was schedule to go to a vote on Sunday but was pulled along with other private legislation proposed by coalition members.

The legislation is an initiative by Samaria Regional Council head Yossi Dagan and is being promoted in the Knesset by MK Shuli Mualem-Rafaeli (Bayit Yehudi) and coalition chairman MK David Bitan (Likud).

If passed in the Knesset, Israeli citizens would be allowed under the amendment to return to where evacuated settlements Kadim, Ganim, Homesh and Sa-Nur once stood and gradually resettle the area.

"The objective of the disengagement plan was to create a better security, diplomatic, economic and demographic reality," according to the legislation proposal. "But today it is clear to all that the disengagement not only failed in achieving this objective, but caused immense damages to the State of Israel precisely in those fields. Despite the expulsion of residents from the northern Samaria, there has been no change to the status of the land and the military presence in the area."

The 2005 Disengagement Law, which included the evacuation of some 10,000 people from all Israeli settlements in the Gaza Strip and the four settlements in the northern Samaria, covers the evacuation of settlers and the compensation given to them, while also barring entry of Jews to the evacuated areas.

To this day, Jewish residents are not allowed to drive through the area, tour the area or enter the evacuated settlements.

The amendment seeks to cancel this prohibition, with MK Mualem-Rafaeli arguing it is a vital step in rebuilding the settlements and returning the settlers who were evacuated from there.

Samaria Regional Council head Dagan, a former resident of Sa-Nur, said: "We've been waiting for 11 years ... It is time to cancel the Disengagement Law everywhere; and certainly in the northern Samaria, where besides than uprooting people from their homes for the sake of uprooting, nothing else has been done.

"The communities are waiting for their residents to return. The roads are there, as are the electricity infrastructure and the stairs connecting the communities. On the other hand, the stupidity remains, and it is time to put an end to it."

Members of the ministerial committee and the coalition leadership have discussed the legislation on Saturday night, agreeing to approve it.