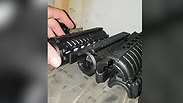 The contents of the officer's container
Senior IDF officer investigated for illegal weapon possession
IDF brigadier-general interrogated by CID for possessing various armaments including AK-47—possibly taken from Hamas—handgun, night vision gear; items stored in container officer ferried with him as he changed assignments. 'Officer's record immaculate, he's convinced investigation will conclude without charges,' say attorneys.
An IDF brigadier-general was interrogated by the army's Criminal Investigation Division (CID) Sunday following a suspicion he received and possessed military and civilian equipment illegally.

The Reshet Bet radio station originally reported the officer was interrogated for allegedly hiding an AK-47 assault rifle and other armaments in a container accompanying him throughout his stay in different IDF bases.


The IDF has yet to decide whether to suspend the officer involved, and a decision will be made in accordance with the findings of the inquiry, which is still ongoing.

Footage of the container's search

The senior officer held a private container in the base in which he served that contained an AK-47, a handgun, night-vision instruments and bullets, Reshet Bet reported. The officer allegedly improved, renewed and utilized the weapons for his own purposes—and then had his personal driver hide it.

The AK-47 may have been taken as a spoil of war, possibly used by Hamas in the past.

The officer has been interrogated two weeks ago, the report said. The driver who hid the weapons under the officers ordered was interviewed by Reshet Bet, and said he felt ill at ease with the acts.

The container hiding the illicit equipment also held various appliances such as a television set and washing machine.

"The officer has an immaculate combat service record in a number of central roles and in leading soldiers in different sectors. He indeed owns a container that intermittently followed him to new bases in which he was stationed containing personal effects and other objects intended for IDF soldiers. The officer is principled and honest and has been fully cooperating with investigators and provided his account. He is convinced the inquiry will conclude without finding any criminality," said Chief Military Defense Councils, Colonel Ran Cohen and Lieutenant Ariel Hebron, who represent the officer.