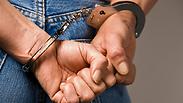 Illustration
Photo: Shutterstock
Bahaa Awisat, a 22-year-old Jabel Mukaber resident, was sentenced to 16 years in prison on Monday for the attempted stabbing of a police officer in 2015.

Awisat, who was convicted of attempted murder and illegal possession of a weapon, was said to be radicalized after watching videos of "martyrs" on Facebook, leading him to carry out a terrorist attack against Jews.

Armed with a knife, Awisat waited for an opportunity to do so in Jerusalem's Nof Zion neighborhood in October 2015. Alert residents noticed him and called in police.

A police officer arriving on the scene ordered him to identify himself, but he refused and attempted to stab the officer. Other officers prevented him from doing so.

Jerusalem District Court Justices Yoram Noam, Rivkah Friedman and Moshe Bar explained the severity of the sentence in their ruling. "The sentence for attempted murder must appropriately reflect the sanctity of life in the eyes of the public—citizens and law enforcement alike—values which the defendant and his ilk wish to eradicate through stabbing attacks," they elucidated.

"An ideology of yearning to become a martyr, while murdering others, which makes death a goal unto itself and the murderer a revered figure, is a murderous one, disseminating its vile venom in various systems of extreme incitement brought to fruition both by extremist zealots who share this ideology and by others easily susceptible to influence such as children and people in distress, a group the defendant may belong to," they added.

Attorneys Sagi Ofir and Lizu Wolfus from the Jerusalem District Attorney's Office said: "The court has once again levied a harsh punishment on a terrorist, even one whose attack was thwarted by the swift action of other police officers and claimed no lives. The court's continued message with these prolonged sentences is crucial in complementing the struggle to foil and prevent terrorist attacks in Jerusalem in particular and Israel in general."