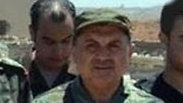 Munir Ali Na'im Shaiti, the person entrusted by Hezbollah Secretary-General Hassan Nasrallah in charge of the Syrian Golan Heights from Damascus to the border with Israel, is the man who will, to a great extent, sketch for Hezbollah the plan for the next war on the Syrian front.

Shaiti, 50, was given the nickname Haj Hashem in the course of his long service in Hezbollah during which he, among other things, ordered the 2002 shooting attack at Kibbutz Matzuva which caused the deaths of six Israeli civilians.

During the Second Lebanon War he commanded a combat force against the IDF and since then has accumulated extensive operational experience.




In June 2016, Nasrallah decided to appoint Shaiti to head the organization's southern front of the Syrian civil war, which Hezbollah has been involved in since 2011—fighting alongside the Assad regime because of their fear of ISIS and with the intention of preserving the organization's assets in the country.

His promotion took place after Mustafa Badreddine, who was Hezbollah's supreme military commander in Syria, was assassinated—allegedly on Nasrallah's orders.

Yedioth Aharonoth, which first published the story after details on Shaiti were revealed, noted that "exposing the details about Hashem was meant to signal to him clearly that he was marked by Israel … (and that—ed) his fate is likely to be like that of his predecessors."

It doesn't seem that farfetched, either.

As part of his job, Shaiti is in charge of one of the most contentious sectors in the region, where there is coordination today between Iran, Hezbollah and the Assad army, on the border with Israeli territory considered "occupied" by all three, and where the various Hezbollah units carry many kinds of operational activities.

Sources in Israel estimate that a total of 8,000 fighters are currently on Syrian soil. So far, some 2,000 militants have been killed there, and once the fighting in the area ends, the forces are supposed to withdraw back to Lebanon.

While the IDF and Defense Minister Avigdor Lieberman are debating who shot rockets at the Golan on Saturday, the person who apparently knows for sure the identity of the culprit is Shaiti, who is responsible for sending the drone to intelligence missions in the Golan a month ago, which was eventually intercepted by an Israeli patriot missile.

Israel is interested in Shaiti both because of his past special operations for Hezbollah and because of his current role in Syria, and it seems that he's well aware of that.

Shaiti is cautious, prefers to lay low and remain fairly anonymous—which he has successfully done so far, as Wednesday marked the first day that his name or picture was published in the news.

It can be reasonably assumed that exposing the details about Shaiti sent a clear message that if he continues his activities, he is liable to meet the same grim end as his predecessors.