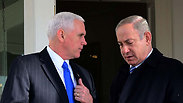 Netanyahu and Pence
Photo: Avi Ohayon/GPO
Vice President Pence heading to Israel
White House announces planned visit by Mike Pence to Israel, where he will meet with Netanyahu and Abbas to gauge prospects for peace initiative, before heading to Egypt to highlight security cooperation and address persecution of Christians and religious minorities in the region.
US Vice President Mike Pence is planning a trip to Israel in December when the country celebrates the festival of Hanukkah, it was announced by the White House Wednesday night.
During the visit, Pence, a long-time supporter of Israel, will meet with Prime Minister Benjamin Netanyahu and Palestinian Authority President Mahmoud Abbas before moving on to Egypt.
Pence will use his sojourn in the region to gauge the chances of success for launching a comprehensive US peace initiative between Israel and the Palestinians and in the Middle East as a whole.
Moreover, the vice president will hold discussions with Israel on Jerusalem's space program and regarding Washington's revision of its policy on Iran after President Donald Trump recently announced he would not recertify the Iran nuclear deal.
From Israel, he will depart for Egypt where he will meet with President Abdel Fattah al-Sisi in a public display of solidarity which will highlight security cooperation between the two countries.
A central component of his visit will focus on the persecution of religious minorities, including Christians in the region.
To that end, Pence is planning to convene a meeting with members of the Egyptian government and religious officials to discuss the matter.
Delivering his remarks on Thursday night, Pence said that President Trump was determined to stamp out persecution against minorities.
"President Trump has directed me to go to the Middle East in late December and I promise you, one of the messages that I will bring on the president's behalf to leaders across the region is that now is the time to bring an end to the persecution of Christians and all religious minorities," Pence said, prompting a round of applause.
Pence also announced Wednesday that President Donald Trump had directed his State Department to pull US funding from "ineffective" United Nations programs aimed at addressing persecuted and displaced religious minority communities, and redirect that money to programs run by the United States Agency for International Development, as well as faith-based groups and private organizations.
He complained that Christians and other persecuted people in the Middle East have not been getting the relief they need, and accused the UN of having "too often failed to help the most vulnerable communities, especially religious minorities."
"From this day forward, America will provide support directly to persecuted communities through USAID," said Pence. "Our fellow Christians and all who are persecuted in the Middle East should not have to rely on multinational institutions when America can help them directly."
Continuing his remarks, Pence bemoaned an "unprecedented assault" on Christianity "in those ancient lands where it first grew," pointing to incidents like the Palm Sunday church bombings targeting Coptic Christians in Egypt and attacks on Christian communities in Syria.
He also pledged that, as the Islamic State group is evicted from its strongholds in the Middle East, the president was committed to helping persecuted minority groups "reclaim their lands, return to their homes, rebuild their lives, and replant the roots in their ancient place of birth."
Pence represented President Trump at the American Israel Public Affairs Committee (AIPAC) conference that took place seven months ago.
During his speech he told his listeners that President Trump is committed to forging an enduring peace in the Middle East.
Adding that without doubt there would have to be compromises to achieve that peace, he said that Trump would not compromise on the security of the Jewish state.