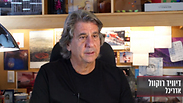 Tony-winning architect to design Herzliya Marina hotel
David Rockwell, a famous American architect with Jewish roots, is not well known in Israel. But that is about to change after he has been chosen to design a new luxury hotel at the Herzliya Pituach Marina. Watch an interview Ynet conducted with him in his office in Manhattan.
David Rockwell is an international architect who has created a variety of designs in different fields over the years—from luxury hotels and famous restaurants to stage sets on Broadway. He even won a Tony for the set design of the musical She Loves Me.

At the moment, his name is not as well known in Israel, but this is about to change soon after he has been selected to design a new hotel at the Herzliya Pituach Marina.

The full interview with David Rockwell

The hotel, which is being built by the Herzliya Marina Ltd.—controlled by the Hagag Group, the Y.D Cohen Bros. Construction Ltd. and Yigal Zemach—will have about 180 rooms, and is expected to open to the public in three to four years.

"One of the things we're interested in is taking advantage of (the hotel's) location, and creating something that for our first project in Israel will be as beautiful as possible," Rockwell says.

Rockwell, born to Jewish parents, was supposed to visit Israel last summer with his son, who participated in the Maccabiah Games as a table tennis player, but could not make it in the end. Nevertheless, he's very interested in Israel.

"I love the fact that there is a deep sense of history (in Israel), and there is also looking to the future," he says.

The writer was a guest of the Rockwell Group in Manhattan, New York.