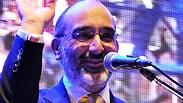 Jews around the world get ready for giant 'Shabbat Project'
Founder of the international initiative, South African Chief Rabbi Warren Goldstein, estimates more than 1 million Jews will participate in a Shabbat dinner in more than 1,100 cities across 96 countries; 'People are searching for a Judaism that is relevant to the modern world, and Shabbat is relevant.'
Jonny Goldman from Brisbane, Australia has organized a giant Challah-baking event this week. Daniella Levinger from Panama looks forward to saying goodbye to the week as Shabbat approaches. Bianka Gershovitz from Singapore feels Shabbat enables her to connect with the Jewish people, and Robin Lichter from San Diego feels it enables her to reestablish her connection with her Jewish identity.

Hours before the "Shabbat Project" is officially launched after sunset on Friday night, Ynet had the chance to speak to a few Jews from around the world who are excited to participate in the giant weekend, to ask them what Shabbat means for them.

Shabbat Project

There are approximately 15 million Jews in the world today and the organizers of the world Shabbat Project estimate that more than one million of them will be participating in the project. People will gather around a Shabbat table in more than 1,100 cities spread across 96 countries.
'We simply want to be connected'
The founder of the project, Chief Rabbi Warren Goldstein from South Africa, explains that the project was born out of an understanding that while progress makes our lives more comfortable than ever before, it also causes distance between people. The aim of the project is to unite people and families through Shabbat.

The project began four years ago in 2013 with undeniably impressive results, encouraging hundreds of thousands to attend or host a Shabbat meal.

"The Shabbat project is important because it unites the Jewish people, not through persecution and pain, but rather because we want to connect with one another, through pride and the simple desire to be Jews," said Rabbi Goldstein.

"I find it special that in Israel there is a thirst for genuine unity, a thirst to free ourselves from all the labels and disputes … and to form a new dialogue with our friends," he continued.

"Shabbat also gives us the opportunity to free ourselves from everyday craziness and pressures, to disconnect from the technology and to connect with the family, with the community, with ourselves and with God.

"People are searching for a Judaism that is relevant to the modern world and our tradition of Shabbat that we have observed for thousands of years, is relevant especially these days."