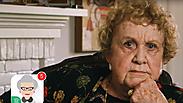 'How long do I have to wait?'
Photo: AFHU
Jewish grandma stars in series of viral videos
Videos featuring shtick-laden Jewish grandma 'Judith Cohen' and advertising (fake) new apps 'Mensch on wheels,' 'It's cold,' and 'Would it kill you to call' go viral; video series is part of fundraising campaign for American Friends of Hebrew University; 'Viewers said, "I wish it was a real app, I'd use it,"' says AFHU marketing director.
Did your son remember to put on a sweater? Is your daughter taking her sweet time to get married? Are the grandkids always forgetting to call? In a series of videos that have gone viral, Jewish grandmother Judith Cohen pledges to take care of these issues, which plague every Jewish grandmother, with her own patented apps.
The videos were actually produced by American Friends of the Hebrew University (AFHU) as part of an effort to raise donations from the American public for future development of slightly more useful apps (and some other things the Hebrew University dabbles in).
Judith Cohen, meanwhile, is in fact 84-year-old actress Barbara Malley, who easily took to the Yiddish inflection and mannerisms of a Jewish grandma.
Indeed, the myth of the Jewish grandma managed to garner tens of thousands of cumulative views on YouTube.
Would it kill you to call?
AFHU Chief Marketing Officer Eileen Hume was the driving force behind the series of videos and told Ynet, "Everybody has a bubbe (Yiddish for 'grandmother'), and she encapsulates the ultimate shared experience of American-Jewish culture."
Stereotypes every Jew would be familiar with
In describing her "Would it kill you to call?" app, Cohen explains in the video, "After seven days without a call, a text is automatically sent to your loved ones: 'It's been a week, would it kill you to call?'"

Mensch on wheels

The other two videos in the series also transform "grandmotherly" problems and concerns to a kindly Jewish app. For instance, one that updates bubbe's loved ones when it's called and cautions them against dressing improperly for the weather, or one explaining how to set up eligible Jewish bachelors with a stubborn single grandchild.

"Our starting point was stereotypes, but we handled them lovingly. We hit upon this idea by matching the famous, timeless qualities of the Jewish grandmother with life in the modern world," Hume explained with a smile.

It's cold!

Audience embraced the Jewish bubbe, and nearly forgot the grandmother was just as pretend as the apps she was proffering.

"It's actually really funny. Viewers responded with, 'I wish it were a real app, I'd download it.' Nevertheless, the purpose of the social media campaign is to increase awareness of the Hebrew University among a new, younger audience," Hume said.

"In that respect, the message was absolutely well received, as it reached a whole new public. We wanted it to be light-hearted and to speak to people through humor, because humor works. And we wanted to balance out the very serious and important subject matter behind the campaign with something with a little more brevity," she concluded.