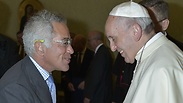 Adams (L) and Pope Francis
Pope Francis invited to launch Giro d'Italia in Israel
Canadian-Israeli philanthropist Sylvan Adams meets pope in Vatican, invites him to launch Israeli leg of Giro d'Italia, second most important cycling race; 'Upcoming race is further testimony to power of sport to transcend politics and division, focus solely on sportsmanship,' Adams says; PM Netanyahu, President Rivlin also exhort catholic leader to attend Israel's 70th Independence Day.
The honorary president of the Giro d'Italia bicycle race, Sylvan Adams, invited Pope Francis on Thursday to launch the Israeli leg of the famed race, to take place next May.

Adams—president of "Big Start Israel," which organizes the Israeli leg of the race—personally delivered the invitation to the pope while visiting the Vatican. He was also the one to convince the race's organizers to launch their race in Israel, for the first time in the Giro d'Italia history.

Along with the invitation, Adams delivered to Pope Francis a personal message from Prime Minister Benjamin Netanyahu, in which the Israeli prime minister asked for the Catholic leader's support for the race—"one of the highlights of Israel's 70th Independence Day"—and other attendant projects, all grouped under a theme of peace, dialogue and coexistence in both Israel and the world.

Adams also spoke of the last meeting between Pope Francis and Israeli President Reuven Rivlin, in which the latter invited the pope to serve as guest of honor for the 70th anniversary celebrations.

"Israel and specifically its capital, Jerusalem, is an important center of all three Abrahamic faiths (Christianity, Islam and Judaism), where we must daily demonstrate our ability to live together in this tiny geography," Adams told the pope.

"The upcoming race in Israel is further testimony to the power of sport to transcend politics and division and focus solely on sportsmanship," he added.

Not content with merely inviting the spiritual leader of 1.30 billion followers to launch the race, however, Adams also suggested the pope ride alongside him in a bicycle convoy.

175 of the world's best cyclists will participate in the 2018 Giro d'Italia, to be launched May 4. The event is expected to draw thousands of tourists to the country, provide a steady flow of income and to give Israel an economic boost. In addition, hundreds of millions of viewers will follow the three days of the Israeli leg, broadcast live to their homes.