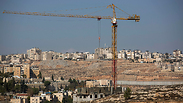 Construction in Pisgat Ze'ev
Photo: EPA
Under pressure from the United States, Israel has delayed a bill that would connect a number of settlements in the West Bank to Jerusalem, officials said Sunday.

The "Greater Jerusalem Bill" aims to solidify the city's Jewish majority, but stops short of formal annexation, making the practical implications unclear. The bill says the communities would be considered "daughter municipalities" of Jerusalem.

According to Israeli media sources, Prime Minister Benjamin Netanyahu said that Jerusalem had to coordinate with Washington on the matter.

"The Americans turned to us and inquired what the bill was about. As we have been coordinating with them until now, it is worth it (to continue) talking and coordinating with them. We are working to promote and develop the settlement enterprise," the sources quoted Netanyahu as saying at a government meeting Sunday.

Earlier Sunday, David Bitan, the coaltion chairman and a close Netanyahu ally, told Army Radio the vote was delayed because "there is American pressure claiming this is annexation and that this could interfere with the peace process."

"The prime minister doesn't think this is about annexation. I don't think so either. We have to take the time to clarify matters to the Americans. Therefore, if the bill passes in a week, or in a month, it's less problematic," he said.

Proponents of the legislation say it falls short of formal land annexation to Israel but will enable some 150,000 Jewish residents of the West Bank to vote in Jerusalem city elections. Intelligence Minister Israel Katz, a supporter of the bill, has said this would "ensure a Jewish majority in a united Jerusalem".

Peace Now, an Israeli left-wing group, says the bill would amount to "de facto annexation" and be a clear step toward full annexation of the West Bank.

US President Donald Trump's envoy, Jason Greenblatt, has been shuttling throughout the region in hopes of restarting peace talks, which last collapsed in 2014.

But in contrast to the Obama administration, Trump has not explicitly endorsed a Palestinian state. While repeatedly stating that he wants to achieve the "ultimate deal" between Israel and the Palestinians, the US president has focused far more on PA and Hamas-led incitement to violence and terror against Israelis than on Israeli construction in territories it says are disputed in the West Bank.