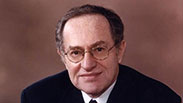 Alan Dershowitz .Old and new anti-Semitism in the stronghold of progress, Berkeley University
The Jews in the United States, we are told again and again, are in a wonderful state. Indeed, in most Jewish communities, especially in New York, the number of anti-Semitic incidents is infinitesimal. The Jews are living a good life.

But something is simmering below the surface. During Donald Trump's presidential campaign, and over the past year as well, the radical right wing has been the main star of incidents anti-Semitic in nature. This Right should not be discounted. It was dangerous in the past, and it could be dangerous again.

Something else is happening, however, and not just below the surface. Within several days, three things happened in the United States that were completely unrelated, apart from the fact they likely won't be recorded as anti-Semitic incidents, although I doubt anyone thinks otherwise.

Let's start with Alan Dershowitz, a well-known figure, who has been visiting campuses. It's worth noting he isn't right-wing. His worldview, in Israeli terms, would classify him somewhere around the Zionist Union. He is affiliated with the Democratic Party, and he is perhaps the finest speaker against the campaign to demonize Israel.

About two weeks ago, he gave a lecture at Berkeley. A week later, the local student-run newspaper, The Daily Californian, published a cartoon showing Dershowitz addressing an audience as a liberal presenting his case for Israel, but all the audience can only see is his face. In the hidden part, Dershowitz has an IDF soldier on his palm shooting a Palestinian boy, and another Palestinian boy is being crushed under his foot.

One can cry out "freedom of speech" of course, but it's kind of difficult to hide the image of child-murdering Jews. Old anti-Semitism and new anti-Semitism in a joint performance. And it's happening in the stronghold of progress, Berkeley.

Let's move on. Prof. Michael Chikindas of Rutgers University in New Jersey claimed recently that Judaism was the most racist religion in the world, charged the Jewish people with responsibility for the Armenian genocide, wrote about the "international fat Jewish pockets" and published more and more cartoons of hooked-nosed Jews controlling the central bank, of course. Chikindas teaches microbiology. He is also protected under the "freedom of speech." And he too, like the Berkeley newspaper, has erased the distinction—if he ever had any—between new and old anti-Semitism.

The annual National Students for Justice in Palestine (SJP) conference took place over the weekend in Houston, Texas. Their anti-Israel and pro-Hamas agenda is well known. The leading figure in SJP is Dr. Hatem Bazian, a Berkeley professor, who has been caught in the past making Islamist anti-Semitic comments. They are against any recognition of Israel. They are against peace.

So far, there's nothing new here. But they have adopted a rhetoric which is not only anti-Zionist (the word Israel isn't even mentioned, just "the Zionist project"), but also radical anti-American. According to them, these are two colonialist entities.

These are only signs, but they are very concerning. They are not errant weeds. Similar voices can be heard among too many academics in the US, and the situation is only radicalizing. Jews are sometimes part of the story too. They take part in the libels against Israel and add fuel to the fire of anti-Jewish hatred.