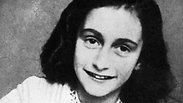 German railway operator Deutsche Bahn (DB) stirred up a storm after deciding to name one of its new Inter City Express (ICE) trains after Anne Frank, ignoring the fact that she—like many other Jews at the time—perished after being hauled to a Nazi extermination camp via the same method of transportation.

The name was chosen when in mid-September DB called on its customers to choose the names for its new generation of urban express trains. Within a month, 19,400 suggestions for more than 2,500 names were received—one of them being Anne Frank.

A naming committee established by the company then selected names for the 25 new trains from a list of the most popular suggestions. DB explained that their goal was to eternalize Frank's memory even further in German society.

Antia Neubauer, DB head of public relations and member of the naming committee, was quoted by the British tabloid Daily Mail as saying that her name was picked for her representation of tolerance.

"It stands for tolerance and for a peaceful co-existence of different cultures, which in times like these is more important than ever," she said.

Other names chosen for the trains include famous Germans such as theoretical physicist Albert Einstein, philosopher Karl Marx and composer Ludwig van Beethoven.

"As different as the selected personalities are, they have one thing in common: they were curious about the world," said naming committee member and gender history professor, Gisela Mettele.

Many, though, took to social media to condemn the decision, with Iris Erberl, a German politician from the conservative Christian-Social Union party, calling the decision "disrespectful."

One wrote: "Am I actually the only one who finds it strange to call a train of the legal successor of the Reichsbahn Anne Frank?"

The Deutsche Reichsbahn was Germany's national railway company that operated during the Third Reich, and the predecessor of DB. It gathered infamy for transporting Jews and other victims of the Holocaust to Nazi concentration and extermination camps.

"The legal successor to the Reichsbahn, which does not compensate forced laborers to this day, baptizes an ICE train Anne Frank. As an historian I unfortunately find this terribly wrong," wrote another scholar.

The new trains, including the one named after Anne Frank, are set to make their first voyage in December.

Over the past month, complaints have been raised in different parts of the world over the use of Anne Frank's name.

An American website that sells Halloween costumes for children, for instance, came under fire for including in its range an outfit of Anne Frank.

Moreover, Italian police and soccer authorities this month opened investigations after Lazio fans posted anti-Semitic stickers of Anne Frank wearing the jersey of their top-flight city rivals AS Roma.