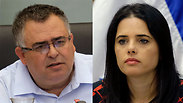 David Bitan and Ayelet Shaked
Photo: Yoav Dudkevitch
Bayit Yehudi and Likud coalition partners announced Monday evening that the government will resume work as usual after agreeing to put to bed the issue of the controversial 'French Bill' that would prohibit police investigations against a sitting prime minister.

The announcement comes after two weeks of discord within the coalition that divided Likud and Bayit Yehudi over the bill which led to an almost complete paralysis of the Knesset Ministerial Committee of Legislation.

Eager to find a solution to what caused a deadlock in the political ranks and resolve the issue that had threatened to wrench the coalition asunder, senior ministers and government officials convened to hammer out details of a compromise.

Justice Minister Ayelet Shaked (Bayit Yehudi) and MK Shuli Mualem from the same party met with coalition chairman and Likud party whip MK David Bitan Monday evening where the sides agreed to place their disagreements aside for the time being.

While the sides agreed to place the French Bill on the back burner, they also committed to putting to the vote in the Ministerial Committee of Legislation next week a bill that would forbid the police from saying whether sufficient evidence exists for an indictment against suspects.

All coalition factions will be permitted a free vote on the matter and will not be obliged to back the bill as they are with coalition agreements.

Only in the event that the bill garners a majority of support in the ministerial committee will the coalition automatically back it in the Knesset plenum as it passes through the required readings

Earlier on Monday, Finance Minister Moshe Kahlon (Kulanu) told members of his faction that his party members' vote would be guided by scruples rather than dictations from the coalition.

"On any issue of conscience and values ​​that is not an obligation of the coalition agreement, Kulanu has a free vote. We won't be forced by anyone to vote against our conscience," he declared.

Regarding the French Bill, the warring parties decided yet again to shelve discussions for a month, buying the Likud chief proponents of the bill vital breathing space necessary to gather broad support.

On Saturday night, an impasse appeared to have been reached as Bitan promised to march ahead with the bill despite a similar agreement in the coalition.