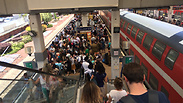 Crowding in Tel Aviv train station
Photo: Raz Linkovski
Starting Tuesday and lasting until early Sunday morning, train services between Binyamina Station and Tel Aviv University Station will be temporarily suspended due to infrastructure works.

At the same time, the Caesarea, Pardes Hanna, Hadera West, Netanya, Sapir, Beit Yehoshua and Herzliya stations will be closed.

The trains to the south will begin their journey at Tel Aviv Central Station.

In contrast to previous times when railways were closed, this time the Transportation Ministry did not provide free shuttles to passengers, except to travel to Ben Gurion Airport at all hours of the day.

In view of the absence of a system of shuttles for the public, transit bus companies are reinforcing their services to keep up with heightened demand.