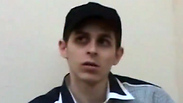 Freshly released footage of former IDF soldier Gilad Shalit, who was held in captivity by Hamas between 2006 and 2011, was released Wednesday, showing the final moments before being released as part of a prisoner exchange deal.

Appearing in a Hamas documentary, which describes an operation carried out by terrorists from its military wing exactly four years ago during which four senior tunnel unit commanders were killed, Shalit can be seen calmly awaiting his release.

Footage of Gilad Shalit in captivity

Throughout the clip, three short scenes are shown from the period of Shalit's captivity. While two of them were already made public, including one which shows the Israeli prisoner being handed a drink while smiling, new footage shows him on the day of his release waiting with masked Hamas guards as he looks around his cell waiting to be transferred to Egyptian intelligence forces.

Shalit was released from captivity on October 18, 2011 when he entered the Kerem Shalom crossing and was greeted by Israeli army officers.

The Hamas video refers to an incident that took place on November 1, 2013, after an attack tunnel was discovered in the Kibbutz of Ein HaShlosha on the border with Gaza,

IDF combat engineers planned to explode the tunnel when a powerful explosive device was detonated by Hamas. The tunnel was subsequently destroyed from the air by the Israel Air Force which also killed four Hamas terrorists in the process.